Looking for an inexpensive carry gun, I bought a Stoeger Cougar in .40 S&W today.
Click image to see larger picture.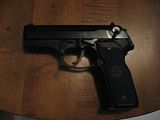 It has my favorite fire control mechanism. - It can be fired single or double-action, and has a de-cocker. The magazine holds 11 rounds, so with one in the chamber you have twelve.
The double-action pull is much better than I expected, one of the best I've ever encountered. It really surprised me. The single-action pull is good too, but I kind of expected that.
Everything works well on it, all of the controls are positive, the sights are good. Nothing about it cries out "Cheap Gun", in fact it seems to be a quality piece. My son noted that the barrel rotates slightly upon locking up. - Dunno what the deal is with that.
They're made in Turkey.
Tomorrow I'll take it to the range and see how it behaves. My first impression though is very good.
More later.