I had five rounds of a new load to try for my 7mm-08 today... A storm was coming in from the northwest but the wind wasn't too bad so I thought I would chance it.
My son was coming along so for fun, we brought our Savage R9317 BTVS and my father's Marlin model 60 along too. My Dad left me many things when he passed on, the little Marlin is perhaps the most special, I think of him every time I hold it in my hands.
My father's Marlin model 60 is topped with a Leupold 2-7 scope that costs probably three or four times as much as the rifle did.
( Click image to see it larger )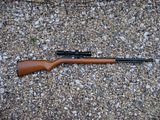 It shot pretty low at 100 yards, being sighted in for thirty feet, but it gave me a creditable group. A couple of these holes are doubles, as I fired 14 rounds.
The Savage R9317 BTVS (17 HMR) has not been fired in over a year, instead adorning a rifle rack in my hallway. It is my favorite gun, but I haven't had it out in a while since ammo got hard to get. The rifle has a Nikon Prostaff 3-9x40 scope. This rifle has brought down more (small) game than anything else I own.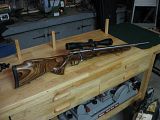 It is still sighted in for 100 yards OK, and handled a ten mph wind blowing in from the direction of the target fairly well.
The Savage model 16 was custom ordered to match the appearance of the 17 HMR, but I have since put a blued sporter-weight barrel in 7mm-08 on it that has it looking different now. The scope is a Nikon Monarch 4-16x42 side-focus BDC.
I still have the original 24" stainless "magnum weight" barrel in .243 Winchester, and have a load worked out for 70 grain Nosler solid-based bullets that will put five rounds into 1/2 inch with it. - It takes less than 30 minutes to switch barrels on a Savage, once you are set up for it.
The new loads for the blue 7mm-08 barrel using a2495 and 160 grain Sierra HPBT bullets did OK, but I've seen the gun do better, as noted above.
We had the most fun with the rimfires, especially the marlin model 60. We were shooting empty shotgun hulls at 25 yards, making them dance and jump.
As always, the scenery at the Big Bend Sportsman's Club is spectacular. Pictures can't really do it justice, but here's one anyway.
Nice day at the range.