My McMillan Rimfire Magnum Varmint Stock arrived today for my Custom Ruger 77/22.
I originally Customized this Rifle back in 2009. I used a Volquartsen Laminated Stock with a Clark Custom Guns 20" Stainless Steel Bull Barrel. I reworked the factory trigger till it breaks like a glass rod at 1 1/4 lbs and had a hole drilled for an overtravel adjustment screw. Ruger 77/22 VBZ Bottom Metal was polished so it matched the Barrel and Action.
I never did care for the feel of the Volquartsen Laminated Stock so I sold it and decided to replace it with a McMillan Rimfire Magnum Varmint Stock, which I ordered 50% Black, 25% Light Grey & 25% White Marble. While I was waiting for the stock to arrive I sent the Bolt to CPC for Randy's Beyond Bolt Tightening. At the same time I took advantage of Natchez Shooters Supply's sale and purchased a new Weaver V-24 6x24x42mm AO Riflescope to sit on top.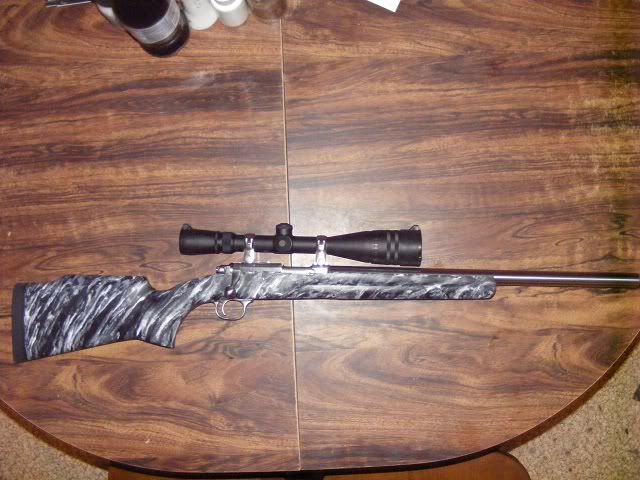 Above is the finished product. No I have not shot it yet since I had the bolt work done, installed the new scope or put it in the new stock, but I hope to before the weekend is over.
I am not disappointed in the stock. The size and shape of this stock is perfect for what I wanted.
Larry