I shot my best five-shot group ever today, with my Savage .243...
( Click image to see it bigger )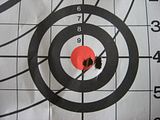 Savage sent a note with the gun recommending Nosler 70 grain solid-base bullets, and sure enough, that's what I've had the best luck with.
Am not so proud of my groups with 90 grain Noslers, ( 1.2" ) or 58 grain Hornady V-Max bullets ( 2" ) - Great bullets, but not in this rifle so far.
Now that my brass is all empty, I think I'll just concentrate on the 70 grain Noslers. This gun will probably never be shot at anything but paper, so accuracy is the first and last consideration.