Today I had to load a small number of cartridges, and decided not to bother with the powder measure, but just weigh each charge.
Having no official powder dribbler, I pressed the powder-dipper that came with my LEE die set into service as one, in order to sneak up on the last few grains for each load.
( Click image to see it larger )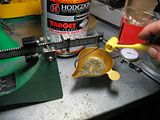 It worked really great! - I can't see where a real powder dribbler could have done much better. - I just held the dipper horizontally and tapped it with a finger, causing powder granules to drop out a few at a time, or even one at a time.
If I went too far, I would scoop a small amount from the scale, and dribble it back until the scale balanced up.
Worked great as a scoop for transferring powder to the scale, too.
So if you want to sneak up on a precise charge, one of the little LEE powder dippers works quite well!
Now, I don't feel so bad about not having an official powder dribbler.