Today I officially moved my reloading bench out of my shop, and into the house. I was needing more floor space in the shop, and decided to move the bench a few weeks ago.
At my age, I have my good days and my bad days... Today must have been a good one as I got started on the project early this morning, long before my son was awake to give me a hand. By the time he was awake, I had all of the stuff off of the table and into a few boxes, so the table was ready to move.
In the new location I fancied it up a little, giving it a dedicated ultrabook computer for looking up loads, ordering components, watching NetFlix, etc.. On the computer I set up a text file to record loads and results in. - We are computer nuts over here. Every member of the family has at least three computers, I have five.
- Then I broke in the new loading setup by loading twenty rounds of .223 for my coyote rifle.
Whew!
Click image to see it larger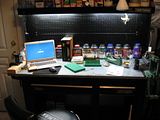 You may ask yourself, "I wonder what the wine glass is for?"
That wine glass is an important piece of reloading equipment... I put powder in the wine glass and in the powder trickler when loading. Powder is scooped out of the wine glass with a Lee powder dipper, then the trickler is used to dial in the load to the exact weight required. - I weigh each load separately after doing case preparation, as I want to give my rifles every opportunity to shoot accurately if they can.
Anyway, now that I have the reloading bench out of my shop, now maybe I can get my milling machine shoe-horned in there. - I've been getting by with a drill-press and really miss my mill.