I have always wanted to try out a Mannlicher-Schoenauer but gee those things are pricey in any kind of shape.
But at the annual gun show here, I found a converted military MS that looked OK and was not out of my price range. It has a few deficiencies but I decided to try to work around all that.
Click to enlarge: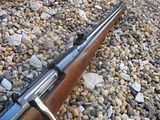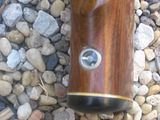 Somebody polished it up and put in a Fajen stock, long ago. They had a little compass inletted into the buttstock. It came with Leupold mounts and a Redfield 2-7 "widefield" scope from the era with both ends shaped like an old CRT TV screen. - I took all of that off so that I could use the Williams iron sights and best take advantage of the little guns handling qualities.
A little research revealed that this gun was from the last MS contract with the Greek government, and was later sporterized. It still has the military two-stage trigger, and it's not so bad for one of those. The barrel is 17.7 inches long, and looks very good under the bore-scope, with no wear or corrosion evident.
Guns like this, chambered in 6.5x54 are popular in Europe for the same kind of hunting situations that we Americans might pick up a 30-30 lever gun for. - Deer or pig hunting at under 200 yards.
With the scope removed, it is almost but not quite as handy as a Winchester model 94.
There has been some splitting in the stock, as I discovered when I tried to remove the stock to read the mfg date data on the bottom of the barrel. Somebody addressed this problem by literally gluing the action into the stock with epoxy.
I fixed a crack coming back from the tang with a small drill and a toothpick. First I drilled a hole at the end of the crack, then I mixed up some bedding epoxy. The toothpick was nipped on each end to make a small dowel pin, which I epoxied in. Then I forced epoxy into the crack, which was just slightly over hair-thin.
The next morning I filed down the dowel, applied stain, and then gave the area a once-over with Tru-Oil. I'll give it a few days to dry and then give it another application of Tru-Oil to finish it up.
I am not sure if I will keep the gun for more than a year or so. If it turns out to be accurate enough, I might keep it as it really is a joy to handle, and the action is very smooth, a lot like a Krag.
Most likely I'll look around to see if there is a ghost-ring type peep sight that I can mount on it.
Meanwhile, it's fun to handle and look at. I'm looking forward to shooting it, it came with two boxes of ammo and a set of dies.