OK I had to do some digging but I found that old posting on how to release a stuck sear.
Here is a reprint from Aug 9, 2005 on Releasing a stuck sear:
Here's a way to release the sear using a metal machinist's scribe. This procedure is intended for those who cannot get the trigger to release the hammer on a properly assembled, cocked pistol.
If you have a Mark II/III - remove the grip panels and locate the sear.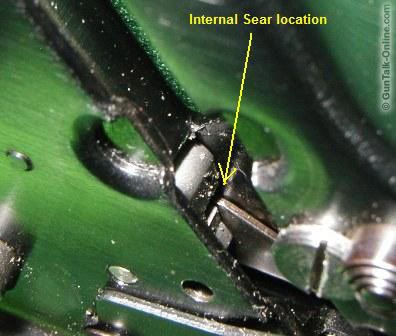 Then insert the scribe hook into the sear's slot. This can be done via the machined slots of the frame under where the grip panels go, or, by inserting the scribe all the way up through the magazine well.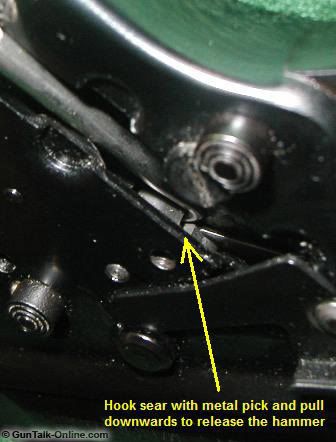 Pull scribe downwards toward the grip end and the sear will release the hammer hook. This procedure can also be accomplished with the bolt open but once you pull on the scribe to release the hammer you also have to manually release the bolt closing it while simultaneously holding the sear with the scribe.
Note - Mark III owners also have to insert a long handled flat blade screwdriver to release the magazine safety disconnect hook off the sear - a little more challenging but do-able.
22/45 owners have to do the same thing in the blind because the grips of the pistol are not removable. Patience is the word, again challenging but do-able.
Hope this helps.
R,
Bullseye