Hunting Season! - What's that?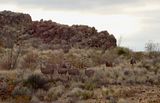 Click image to see it larger.
Mule deer herd out in the desert. A few weeks ago there was a herd in somebody's yard, right across the street from the Sul Ross State University here. The guy who lived there was in his garage messing with his car. They just ignored him.
If I was out hunting them of course, they'd be high-tailing it for the next county!

This is a good year for the critturs here. - The drought has eased up with lots more rain than usual.